The DHDL at HC1PF
From promising models to the sad realty
So after the horizontal loops experiences I decided to go back to vertical polarized antennas. As the flag seems to be the only one working in this environment, I went trough EZNEC models at the search of some loops to put high enough above the fence without the need of ground connection.
At first most of the models looked very fine with excellent patterns but, after adding close to them also the TX antenna and the big fence the results were changing dramatically.
With my available supports – those of the previous pennants plus part of the fiberglass fishing rods – I could reach the height of 10 meters, so my choice was for a couple of DHDL's again. One fixed to Japan and one switchable NE – SW.

With all those wires in the model it was clear that the loops with 5 x 9 m. dimensions above 4.5 m. high (green trace) had a better shape and RDF than the bigger ones (blue trace) one meter lower.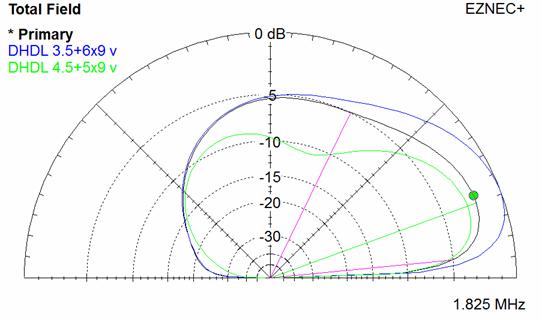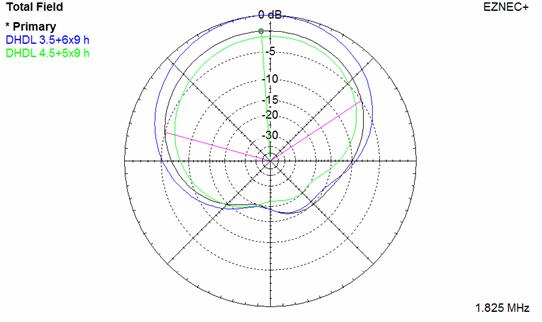 Also the horizontal plots seemed not spectacular, but switching directions should
have given quite an honest difference taking into consideration the fence and the TX antenna.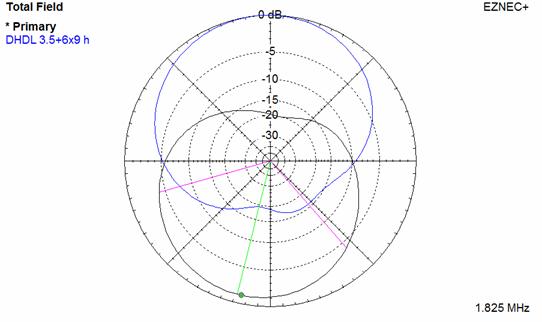 The following is the complete sketch of one of the switchable loops. There were already coax and a control cable to that area. From the first relay box to the antenna boxes the 12V are carried through the coax cable.
I put three common mode chokes with 16 turns of RG6 cable wound on a FT240-31 core; one on top of the vertical section of each feed line and one at their switching point with a 1.80 m. ground rod.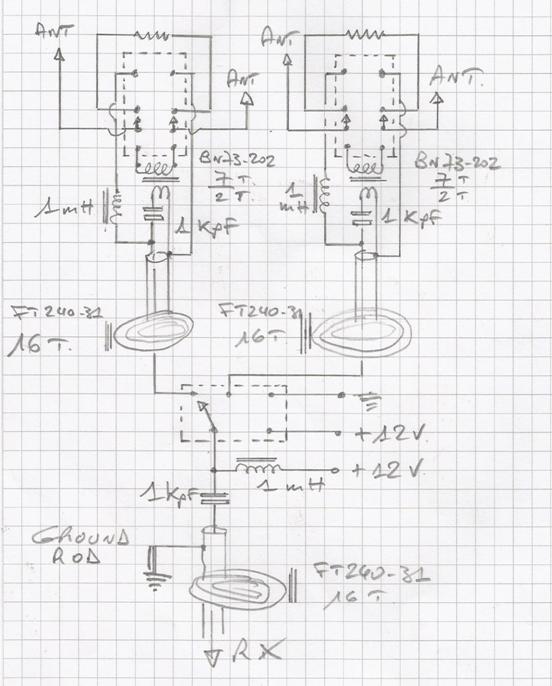 So the setup was almost the same I had in Italy, but unfortunately I left there all the switching and matching boxes, and I had to build them again.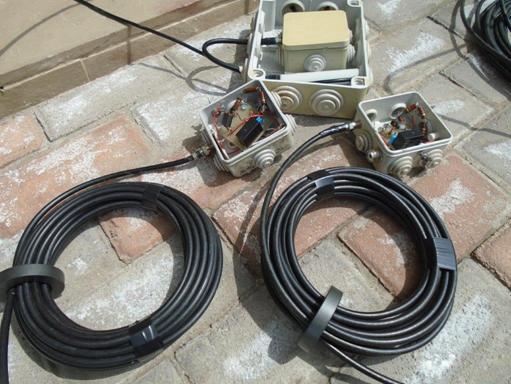 This is one of the feeding points well above the electric fence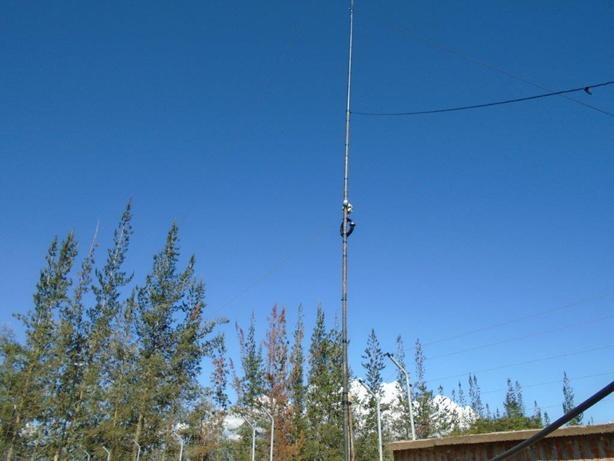 But these pictures show the new enemy which I had not yet taken into consideration: the outside power and utility lines of the urbanization running 6 to 8 meters high.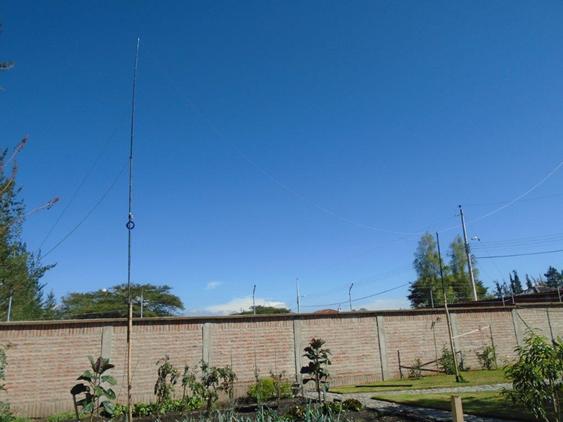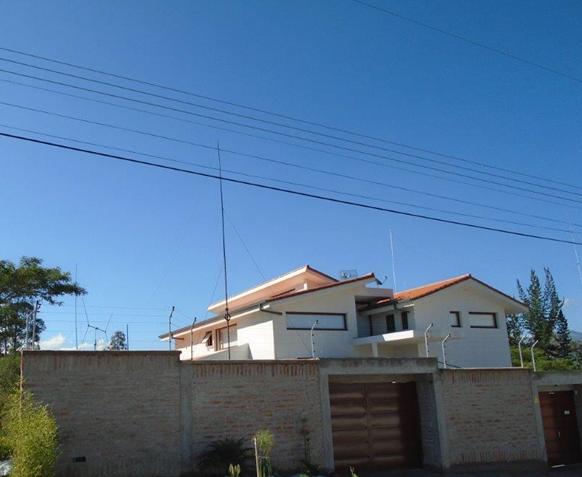 The first checks were not encouraging, so back to Eznec at the search of an explanation. I added in the model also those damn power lines….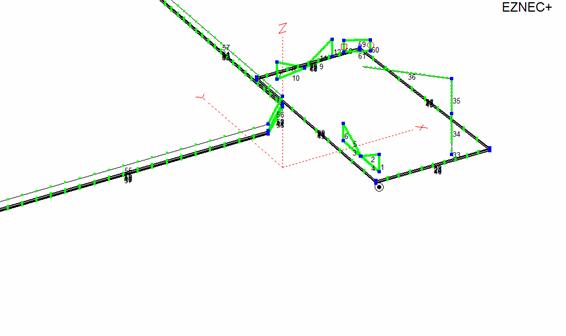 …..and the reply was terrific: the presence of the utility lines completely destroyed the previous antenna pattern (blue trace) with an increase of almost 15 dB of noise, all around!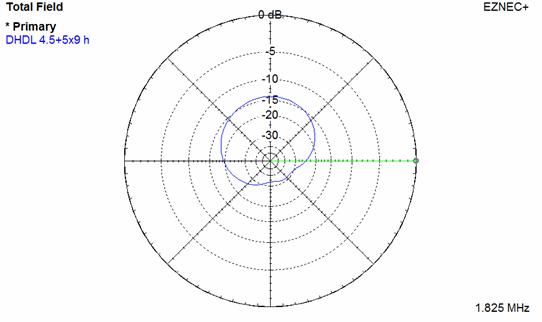 The elevation pattern is more clear:
1) the Inverted L TX antenna is not interfering too much ( blue trace)
2) the presence of the electric fence have been managed enough ( green trace)
3) but the addition of the outside utility lines seems the final killer !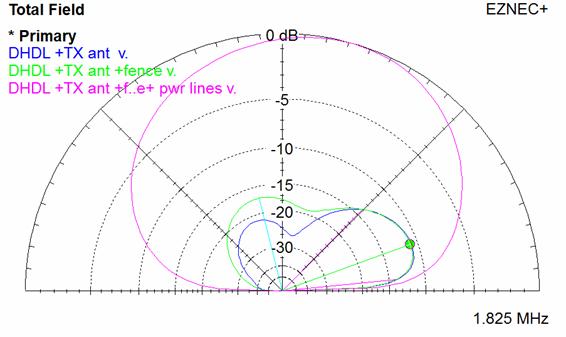 This is the rotatable flag, heading to Japan and very close to the JA DHDL, which is still my best receiving antenna.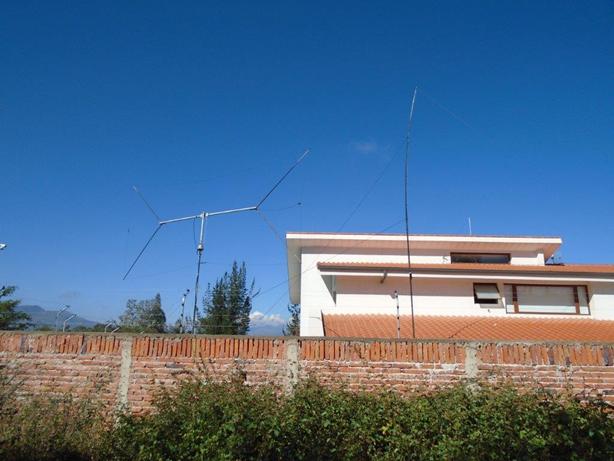 But not yet giving up…..
Quito, March 25 2015 Luis HC1PF