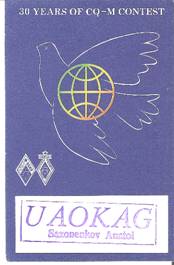 UA9,0 – Asiatic Russia in zone 17,18 and 19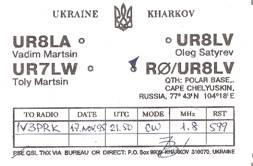 Of course too many to scan, but I must highlight the following:
R0/UR8LV, Oleg from Polar Base, Grid Sq. OQ27 in Nov. 1995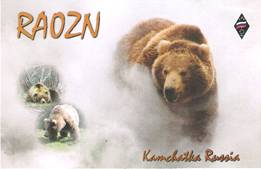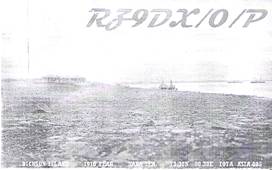 UA0KAG Tom, Nov.1995 in AP09 (69°, 179°W)
RZ9DX/0/P Val, on Dickson is. (73.30N 80.30E) Oct.2009 RA0ZN Alex in Kamchatka, Nov. 2013.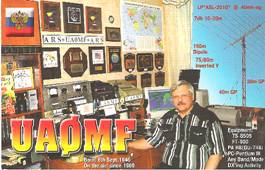 But I will always remember my great friend UA0MF,
ing. Mike Filippov in Vladivostock, with whom
I had dozens and dozens of direct correspondence
since he was UW0MF under USSR. At that time
QSL's were allowed only through Box 88 in Moscow.
Sadly Mike now is a Silent Key.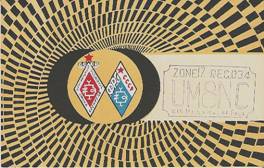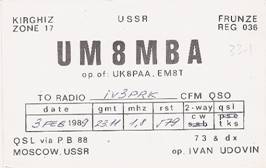 EX, ex UM8 – Kirghizstan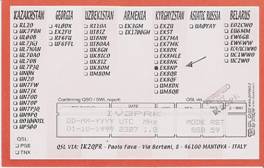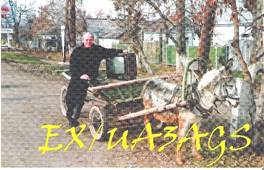 UM8NC op. Paul, Dec. 1988 UM8MBA op. Ivan, Feb. 1989
EX8NP, Oct. 1989 EX/UA3AGS Sergei, Nov. 2000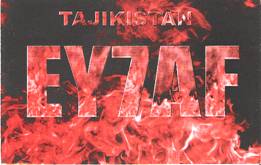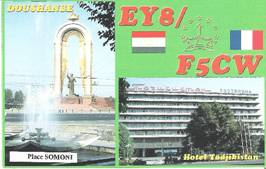 UJ8SCH Andrej, Feb. 1993 UJ8JMM Nodir, Aug. 1993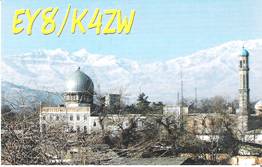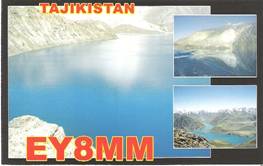 EY8/F5CW Nov. 2002 EY7AF Edi, Oct. 2005
EY8MM Nodir, Jan. 2009 EY8/K4ZM op. Ken, Jan. 2009
EZ, ex UH8 – Turkmenistam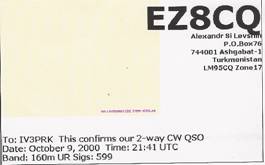 RH2E by Bavarian Contest Club, Oct. 1991 EZ0AB by Alex UA4FAO, Nov. 1998
EZ8CQ Alex, Oct. 2000
UI8LA op. Karim, Dec. 1989 UI8QU Leo, Apr. 1993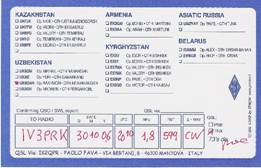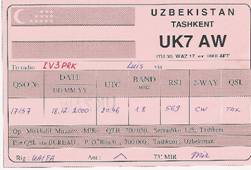 UK8AFT op. Mir, Apr. 1998 UK9AA op. Fedor, Jan. 2000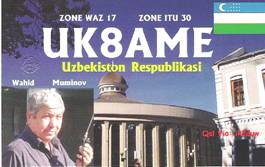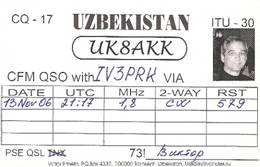 UK7AW op. Mir, Dec. 2000 UK8OAH op. Rakhmon, Oct. 2006
UK8AKK op. Victor, Nov. 2006 UK8AME op. Wahid, Feb. 2009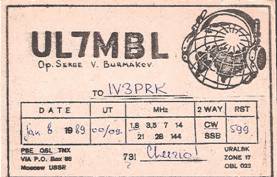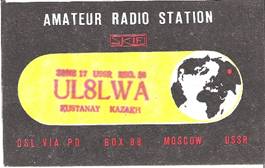 UL7ACI op. Yuri, Mar. 1986 UL8LYA op. Willy, Oct. 1988
UL8LWA op. Ivan, Nov. 1988 UL7MBL op. Serge, Jan. 1989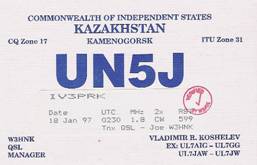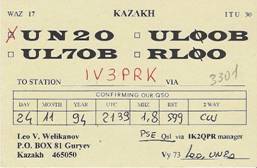 RL7FHK op. Peter, Dec. 1991 UN8IM op. Serge, Nov. 1993
UN2O op. Leo, Nov. 1994 UN5J Vlad, many QSOs since Jan. 1997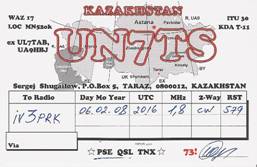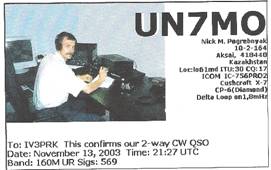 UN7JX op. Nick, Mar. 1997 UN7AM op. Mikhail, 2002-2004
UN7MO Nick, Nov. 2003 UN7TS Sergej, Feb. 2008