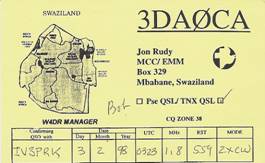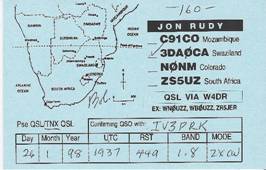 3DA – Swaziland
3DA0CA by Jon Rudy N0NM, Jan./Feb. 1998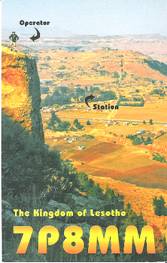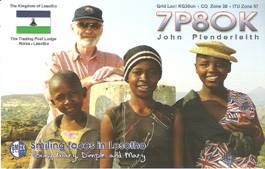 7P8EN by Bernie ZS4TX, Mar.1998 7P8DA by Dave K4SV, Aug. 2004
7P8OK by John 9M6XRO, July 2009
7P8MM by Laurent W0MM, Aug. 2009
A22MN by Dave K8MN, July 1992 A25OOK by John 9M6XRO, July 2007
V51Z by Chris ZS6EZ & Don G3XTT, Mar.1994 V5/W8UVZ George, Feb.1997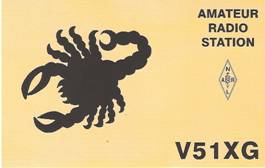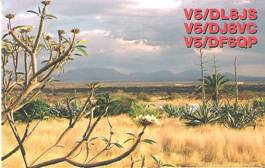 V5/ZS6YG by Charlie W0YG, Feb. 1997 V5/SP7VC Mek, Mar. 2005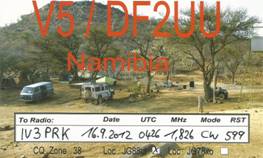 V5/DJ8VC Alfons, Oct. 2006 V51XG Gus, Aug. 2008
V5/DF2UU by Hans, Sept.2012
Z21HS Ralph, July 1992 Z21BB Fernando, Oct. 2010
ZD9 – Tristan de Cunha & Gough is.
ZD9SXW by Roger G3SXW, Oct. 1993 ZD9ZM by Bob G3ZEM, Sep.2000
ZS – Republic of South Africa
ZS1JX Peter, Mar.1996 ZS1REC Raoul, a lot of QSOs since June 2005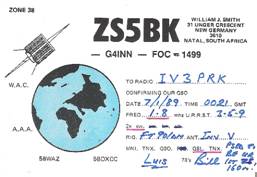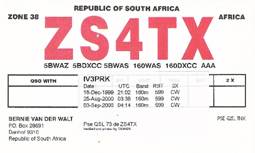 ZS2LL Lambert, Apr. 1997 ZS3/G3LZQ John, Mar. 2008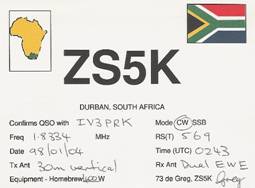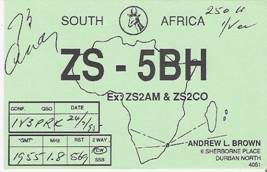 ZS4TX Bernie, many QSOs since June 1997 ZS5BK Bill, my 1st ZS, Jan. 1989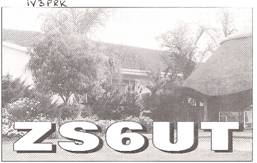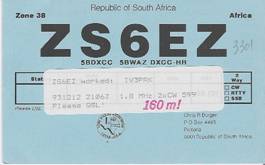 ZS5BH Andrew, July 1995 ZS5K Greg (now ZL3IX), Jan. 1998
ZS6EZ Chris, Dec. 1993 ZS6UT Ed, July 1995
ZS6KT Dirk, Nov. 1995 ZS6WN Karel, Sep. 2006
ZS8 – Prince Edward & Marion is.
ZS6IR op. Chris ZS5IR on Marion is., Feb. 1997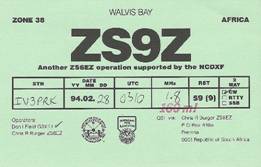 ZS9 – Walvis Bay *** DELETED ***
ZS9Z by Chris ZS6EZ and Don G3XTT on 28 Feb.1994, the last day of Walvis Bay as a separate DXCC